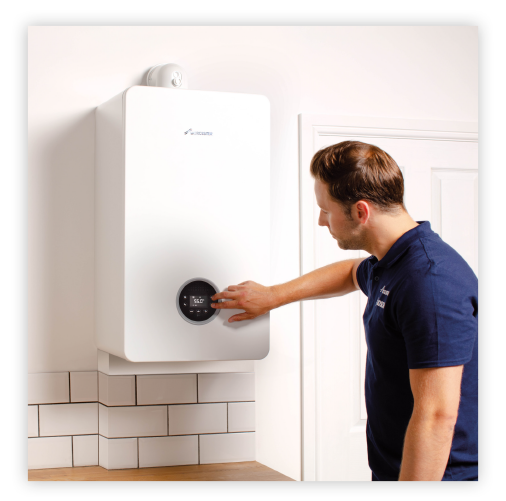 Whether it is a regular gas boiler, combi boiler or system boiler, we provide a full survey and installation service. Contact us to discuss your requirements and a member of our experienced team will be happy to help.
We specialise in the installation of boilers from Worcester, using the latest technology available. Modern Worcester condensing boilers improve efficiency to over 90% which could save you a minimum of 30% per year on your home heating bills, which represents a big saving over the lifetime of your boiler.
Depending on your heating and hot water demand there are different types of condensing boilers that are available, please follow the link for any questions you might have regarding the main boiler types.
Looking for a new boiler?
Our experienced and helpful staff are always happy to help, get in touch today.
A power flush is simply a process that gives your central heating system a thorough internal clean and usually improves the central heating system's performance, which can lead to lower gas bills.
Over time some heating systems may experience poor circulation resulting in lukewarm radiators, poor hot water, increased noise, and sludge build up. By powerflushing' your heating system, the sludge and built up residue will be removed via inline magnetic filtration, it will make your system work more efficiently.
How does powerflushing work?
Because the water in a central heating system is always pumped in the same direction, iron filings, sludge, oil, and grease build up within each radiator in your system. This has a detrimental effect on the efficiency of both your radiators and your boiler – in fact – your whole central heating system, reducing its life expectancy.
When a system is professionally power flushed, the system is flushed in different directions, agitating the sludge and debris, so the system can be drained of the deposits. When flushing a system, special chemicals are used to ensure the breakdown of the sludge inside the system, prior to the deposits being removed.
Powerflushing your central heating system can also extend the lifespan of your boiler. We will assess your system and recommend the right treatment.
Only use a GAS SAFE REGISTERED ENGINEER to FIT, FIX and SERVICE your gas appliances. Click here for more info.